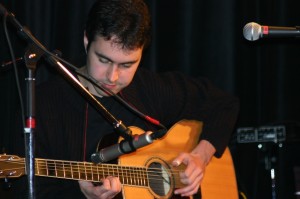 His repertoire is broad, he will make you discover or rediscover the multi-facetted side of the picking guitar. It will feel like going on a journey with Steve – He will bring you through his personal compositions , all very colourful, at times impregnated with a high melodic sensibility and at other times impregnated with captivating rythms …
He also loves to pay tribute to the forerunner guitarists such as Merle Travis and Marcel Dadi.
Having given so many banjo concerts in solo, you can be certain that Steve will make passing references to this fantastic instrument which is sometimes too little known.
Interested? Thank you for reading the section Organizers and contacting and discussing with us at info@stevelouvat.com 
Subject  : Solo concert